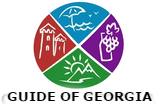 GUIDE OF GEORGIA Company Profile
Company name: Guide of Georgia LLC
Commercial title: Guide of Georgia LLC
Address: I. Vekua str #1, Tbilisi, Georgia 0167
Tel: +995 557 30 40 14
email info@guideofgeorgia.org
Website: www.guideofgeorgia.org
Since the establishment Guide of Georgia LLC has been active in the incoming tourism segment, enjoying a dynamic growth in terms of arriving passengers, revenue and market share. The vision of the founder for valued and competitive services, development through long term partnerships and investment in technology and infrastructures, as well as the commitment to quality without compromises, remain intact and continue to lead the company`s further steps.
The company "Guide of Georgia" is offering customers the big choice for tour-packages, cultural tours, adventure tours, and special interest tours such as hiking, Alpine tours, jeep – tours, wine tours, gastronomic tours, eco – tours, botanical tours, archeological tours and many more. Our trips are based on individual needs and special interests of customers.
We offer our tourists and tour partners radically different tours, depending on their interests and requests, to make their wishes and dreams in reality and give them unforgettable days and impression about travelling in Georgia and Caucasus. Company's priority is quality service and each member of our company is focused in this direction.
The company has several departments: hotel reservation department, ticket (flight, railway) reservation department, service department for individual tourists, and department for groups. The company has also Hiking, jeep – tours, rafting, mountain climbing tours departments, where professional tour managers with professional instructors create and provide exciting tours for those who are willing.
OUR MISSION
Our mission is to always be driven and passionate about servicing the travel needs of companies and individuals. We're committed to offer competitive value for money products and high level services in order to achieve total client satisfaction. We want to meet and exceed all business clients' goals and objectives, strive for excellence in quality, integrity, and value in all that we do. We want our partners and ourselves to grow profitably in our respective countries
OUR GOALS
To be the best choice in addressing the travel needs of individuals.
To render services quickly and e­fficiently so that clients are inspired by the provision of timeout service.
To provide packages that cost e‑ective and tailor-made to suit the needs of the broad spectrum of travelers throughout the world.
To adapt to changing needs of the business sectors and become a major player through satisfying specialized requirements of the small, medium and large business sectors.
OUR VALUES:
To apply honesty and transparency in all our dealings with clients and suppliers alike. To provide memorable holidays in Georgia and abroad, social and environmentally responsible, satisfying the needs of our clients and always exceeding their expectations.
"Guide of Georgia" offers its customers and travel partners different kind of activities and tours. One of the important directions is Adventure tourism. We offer trekking tours, hiking tours on Mt. Kazbek, ski tours, paragliding, rafting, and any activities possible to do in Georgia. We want our customers to have the best adventure in our country, to make an unforgettable trip and have them to come back again. "Guide of Georgia" team has a vision to provide inspiring active adventure itineraries, that help travelers live active, fun and culturally aware lives. The itineraries of nearly every trip have been crafted with care to ensure the most authentic and memorable encounters with local people.
Almost every traveler wishes a tour of a foreign country to be a golden opportunity to learn not only about its culture and history but also to experience the delights of the local food and comfortable transportations and other amenities to ensure a completely stress-free holiday. Our private tours are designed to make customers wishes come true!
Although there are huge numbers of tour agency that are offering the same type of service we have. We make sure that our agency is truly different from others. This is due to the fact that we have unique features implemented every time we render our booking service to our customers. Here are some of the high quality features which make our tour agency different:
Always have time for the guest-All our customer is our topmost priority. We don't make our customers wait, as soon as we receive the request they get the answer from our team.
Affordable rates of service-Financial expenses are not a big burden on our agency. This is due to the fact that we assure all our customers that all our services are offered at its affordable rates of service.
Professional and skilled team-We are equipped with the right skills and knowledge that enhances our capability to handle tour travel service needs of our customers. Our team is also taught on how to deal with them and respond on their needs on time.
Effective and responsive organization-Our agency highlights very responsive and effective organization that responds to the needs and desires of all our customers on time. We are aware that time is very essential to all our customer, so we make sure to give them the best service on time.
What makes our tours different from others?
Authentic experience
Sharing the hidden places not mentioned in guidebooks
Experience local alleys and local life
Authentic food & dining experiences
Integrity and honesty
Real value for money
Money back service guarantee
No hidden costs and tourist traps
Fairness and equality to customers, staff and suppliers
Committed to quality
Quality people-highly trained professionals in all departments
Quality service-our future depends on past
Quality tours-we put ourselves in the shoes of clients
Tailor-made holiday
Customize any vacation package, taking into consideration customer's ideas and wishes
Corporate social responsibility is a big issue in the current climate, with consumers always expecting businesses to do more and help others while also providing the best products and services. There's no doubt tourism is fantastic for a local community. Here is listed some of the points, how agency "Guide of Georgia" helps its local community:
Employment
One of the first things the business do is hires the staff. There are open positions for: tour guides, coach services, accountant and etc. What is great about this business is that not only pay wages to our staff, but source goods and products locally, give a boost to local industry.
Increased spending in the local community
This comes in two ways. First there is money spend directly by tourists in the economy. Not just on tourism, but there are a huge range of basic human requirements that need to be purchased, like food, clothing, hairdressing, medical services and etc. In its own way tourism and travel agencies support global trade. In addition to what is spent by tourists, the tourism dollars earned by businesses and individuals is often re-injected into the local economy. So we get more money earned by locals, which is then spent in the local economy as well. This is the multiplier effect. So more tourists come, the larger economy benefits for everyone.
Infrastructure
The additional revenue that comes into a community also benefits the local governments. It means more taxes, which allows public projects to be launched or developed. This means the infrastructure improves, with new roads being built, parks developed and public spaces improves. The better facilities bring more visitors. But also the local residents benefit from it, especially when there is enough revenue to build new airports, schools, hospitals and etc.
Social advantages
Besides the revenue, there are also cultural advantages to tourism. It is a source of pride for local communities, allows them to look at their history and cultural heritage. This helps the local residents to maintain their traditions and culture, while also showcasing it for all visitors.
Opportunities
Bringing tourists into a community gives it new life, and creates opportunities for entrepreneurs to establish new services and products, or facilities that would not be sustainable based on the local population of residents alone. Tourists are all potential customers, and with the right approach can be targeted in a business strategy that allows for fantastic success.